Mobile bartending businesses have gained immense popularity in today's dynamic world, providing convenient and customizable services for events, parties, and gatherings. Crafting Mobile Bar Packages is an excellent way for you to stand out from the competition and ensure the success of your mobile bartending business. Your packages should cater to your clients' diverse needs. Additionally, leveraging online booking systems can streamline your operations, enhance customer satisfaction, and boost your business's growth. In this article, we will explore tips, tricks, and examples to help you create compelling packages and harness the benefits of online booking for your mobile bartending business.
Understand Your Target Market
Before diving into package creation, it's essential to thoroughly understand your target market. Consider the demographics, preferences, and budget constraints of your potential customers. Are you catering to high-end weddings, corporate events, or casual backyard parties? Tailor your packages to match the specific requirements and tastes of your audience.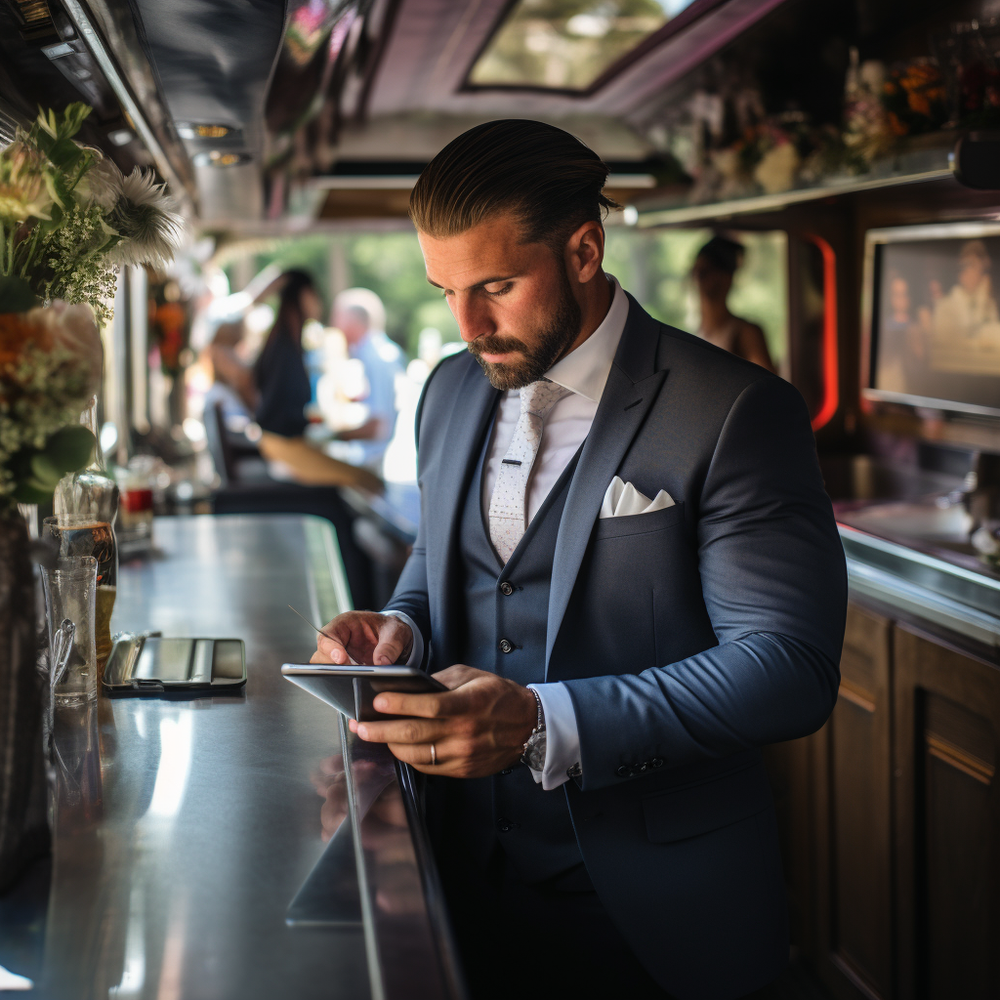 Example:
Package Name: "Mixology Extravaganza"
Target Market: Upscale weddings and corporate events
Package Highlights:
Dedicated mixologist with extensive experience in crafting exquisite cocktails

Signature cocktail menu curated to match the event theme

Premium spirits and top-shelf ingredients

Customized bar setup with elegant glassware and garnish options

Interactive mixology demonstrations and cocktail workshops
👉 Related Article: Mobile Bar Business Plan
Offer Variety and Customization
To cater to different event types and client preferences:
Provide a range of packages offering varying service levels and customization options.

Consider factors like the number of guests, event duration, and specific client requests.

Create tiered packages that allow customers to choose the level of service that best suits their needs and budget.
Example:
Package Name: "Essential Elegance"
Target Market: Small to medium-sized private parties and gatherings
Package Highlights:
Professional bartender(s) to mix and serve classic cocktails and popular drinks

Selection of house spirits and mixers

Standard bar setup with necessary glassware and equipment

Assistance with menu planning and drink recommendations

Optional add-ons for personalized cocktail creations
Highlight Unique Selling Points
Differentiate your packages by highlighting unique selling points that set your mobile bartending business apart. Emphasize specialized skills, creative presentations, thematic menus, or other distinguishing features that make your services exceptional.
Example:
Package Name: "Culinary Cocktails"
Target Market: Food festivals, culinary events, and gourmet experiences
Package Highlights:
Skilled mixologists trained in culinary techniques to create cocktails with a gastronomic twist

Menu inspired by local ingredients and flavors

Cocktail and food pairing suggestions

Collaboration with local chefs and food vendors for an immersive culinary experience

Interactive stations with live cocktail preparation and presentation
👉 Suggested Article: Mobile Bar Pricing Guide
Incorporate Flexible Pricing
Offer flexible pricing options to accommodate various event sizes and budgets. Consider different pricing structures such as hourly rates, fixed package prices, or per-person rates. Communicate what is included in each package to avoid any misunderstandings.
Example:
Package Name: "The Bartender's Choice"
Target Market: Casual backyard parties and social gatherings
Package Highlights:
Energetic and friendly bartenders to cater to guests' drink preferences

Wide selection of house spirits, beers, wines, and mixers

Budget-friendly hourly rate with a minimum booking duration

Customizable drink menu with seasonal specials

Fun garnish bar where guests can add their personal touch to their drinks
Harnessing the Power of Online Booking
Online booking systems offer numerous advantages for mobile bartending businesses. Here are some benefits to consider:
Convenience
Online booking platforms allow clients to browse package options, check availability, and make reservations at their convenience, saving time for both parties.
Streamlined Operations
Automated booking systems reduce administrative tasks, such as manual booking and payment processing, allowing you to focus on providing excellent bartending services.
Customer Satisfaction
Online platforms enable clients to provide specific event details, preferences, and any special requests, ensuring a personalized experience tailored to their needs.
Increased Visibility
Online booking systems can enhance your business's visibility through search engine optimization (SEO) and digital marketing strategies, attracting more potential customers.
👉 Tip: Use a quality online booking system designed for mobile bars such as Check Cherry.
Conclusion
Creating enticing packages and leveraging the power of online booking can significantly elevate your mobile bartending business. By understanding your target market, offering variety and customization, highlighting unique selling points, and incorporating flexible pricing, you'll be well on your way to attracting and delighting clients. Furthermore, embracing online booking systems will streamline your operations, improve customer satisfaction, and fuel the growth of your business. So raise a glass to success and toast to the future of your mobile bartending venture!