DJ Booking Software
Check Cherry is the easy-to-use online booking system designed for both you and your mobile DJ clients.
"If you are a DJ who is looking for a very user & client friendly CRM, with easy to create forms inside of the client portal, like the idea of Spotify integration for playlists, want contracts that can be digitally signed, want beautiful and impressive proposals & invoices, and a really cool dashboard to see what income you have coming in throughout the year, AND MUCH MUCH MORE....Check Cherry will be perfect for you!! Don't hesitate. Take a test drive! You won't regret it!!"
Brian Harris
Planning Forms
Collaborate with clients for the perfect event and receive notification when the form is finalized.
Customize the forms to the specifics of your needs.
Automatically import the questionnaires templates based on booking type.
Create one-off changes for those special requirements.
Add multiple tabs for easy navigation.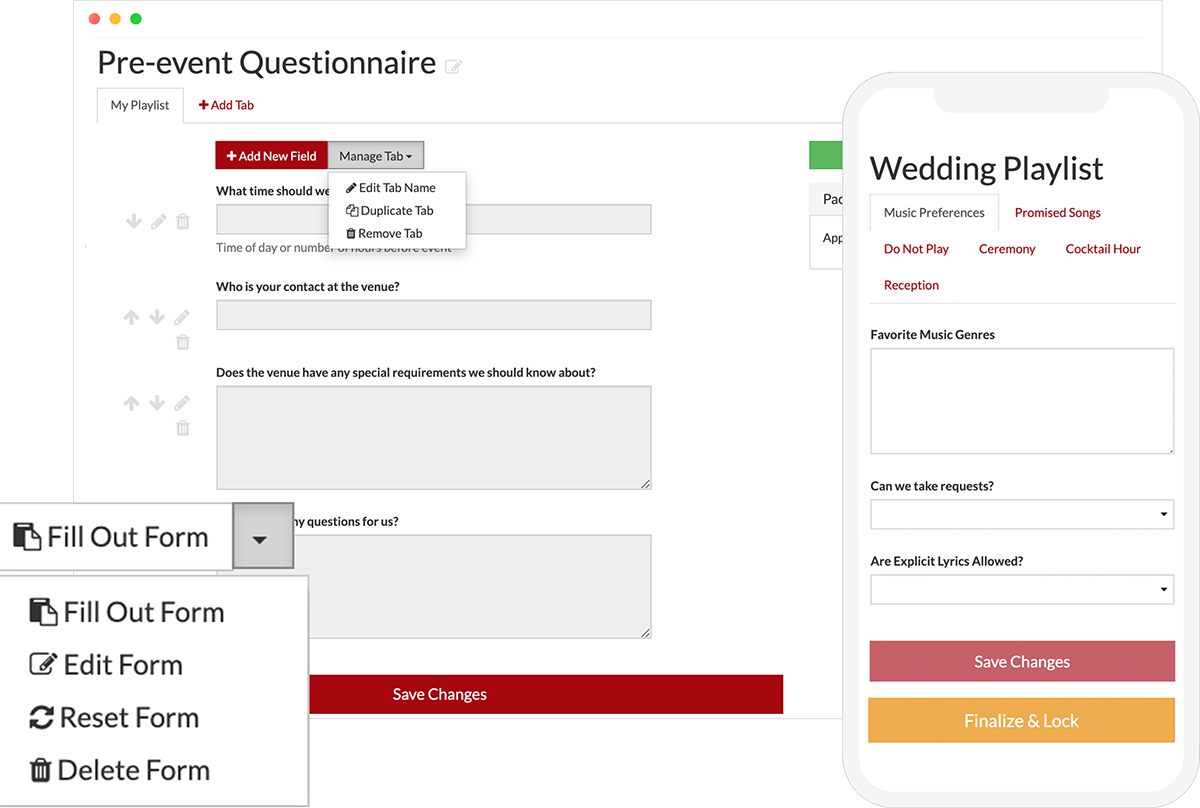 Contracts, Signatures, Deposits
Upload your terms and streamline the process of acquiring signature for both self-service booking and proposals.
Start by adding a package from your list of services.
Optionally tack-on recommended add-ons.
Request a signature, collect a deposit and close the sale.
Make one-off changes to pricing, terms and more.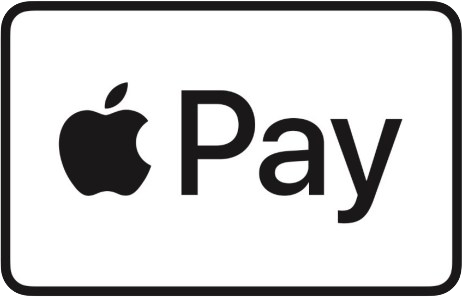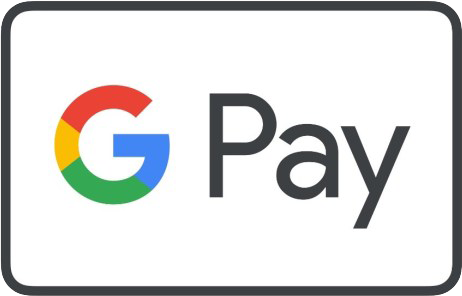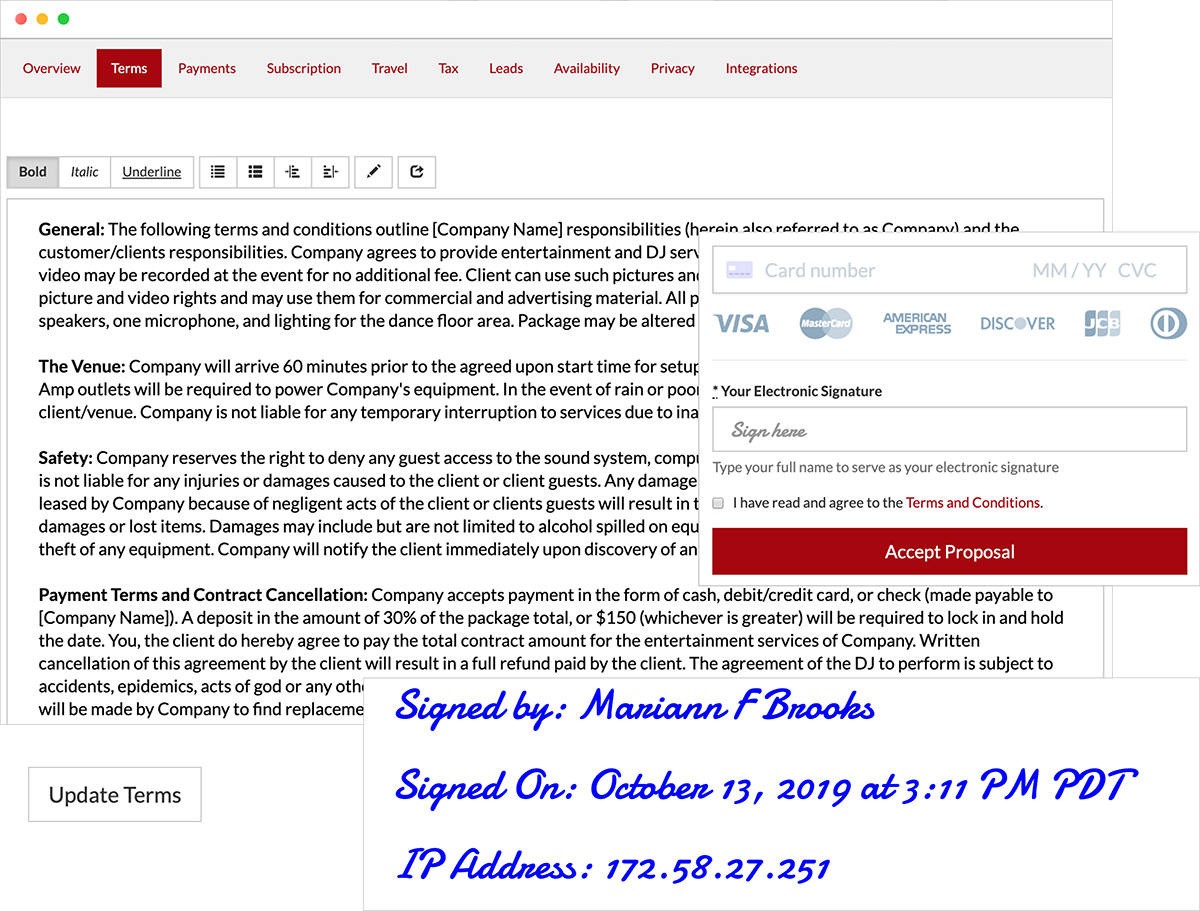 Invoices
Never manually craft or update an invoice again. Your clients will love the 24/7 access to professional looking invoices they can print or download.
Automatically generated with each new sale.
Automatically updated when:

Your client makes a payment.
You add a discount.
Services are added or removed.

Tax can be automatically applied.
Travel fees can be automatically applied.
Override pricing and terms for those one-off situation.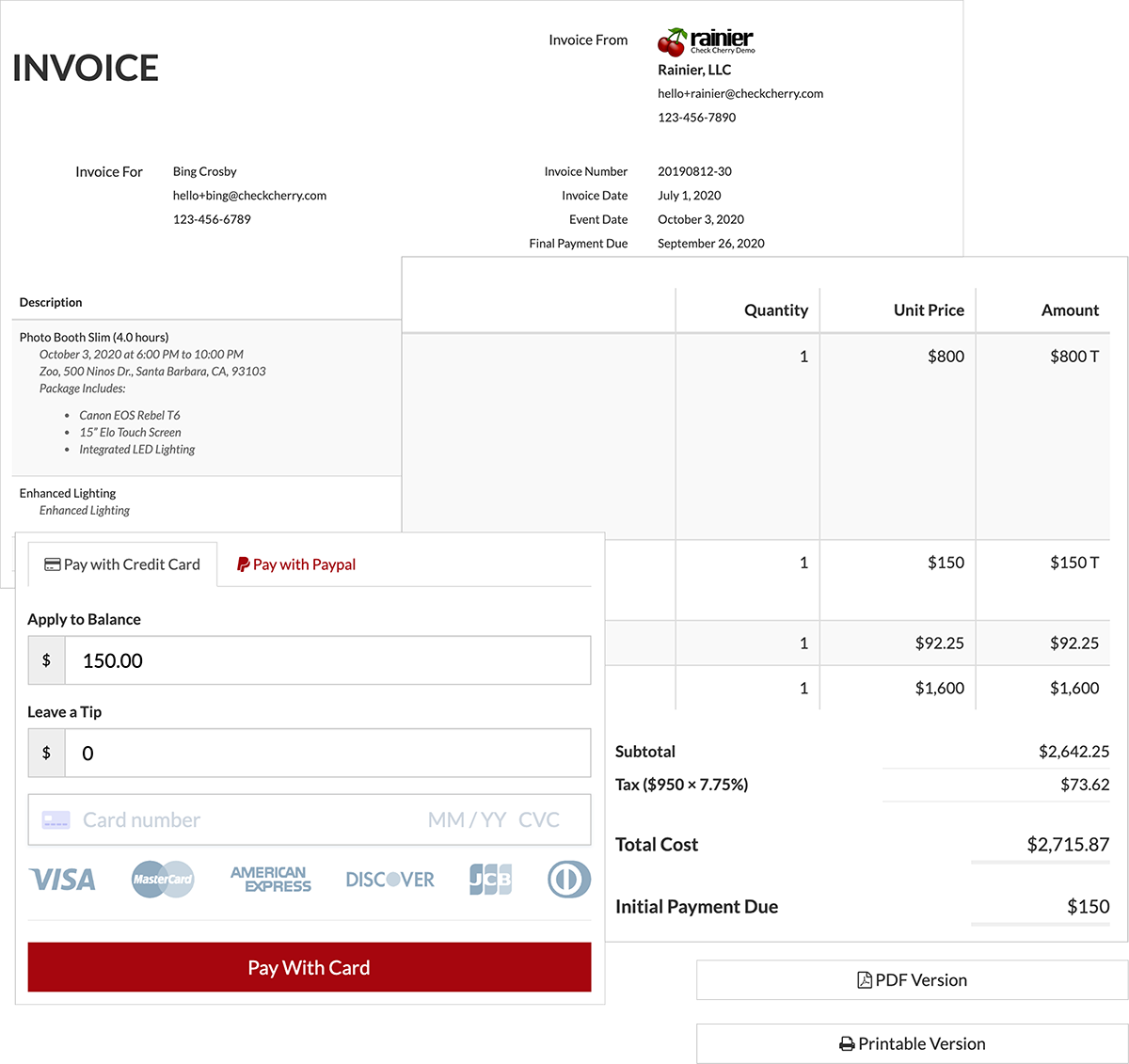 Send your clients beautiful and impressive proposals that convert.
Creation starts with a base package.
Add additional services and add-ons.
Send your client a special link.
Track proposal views via location.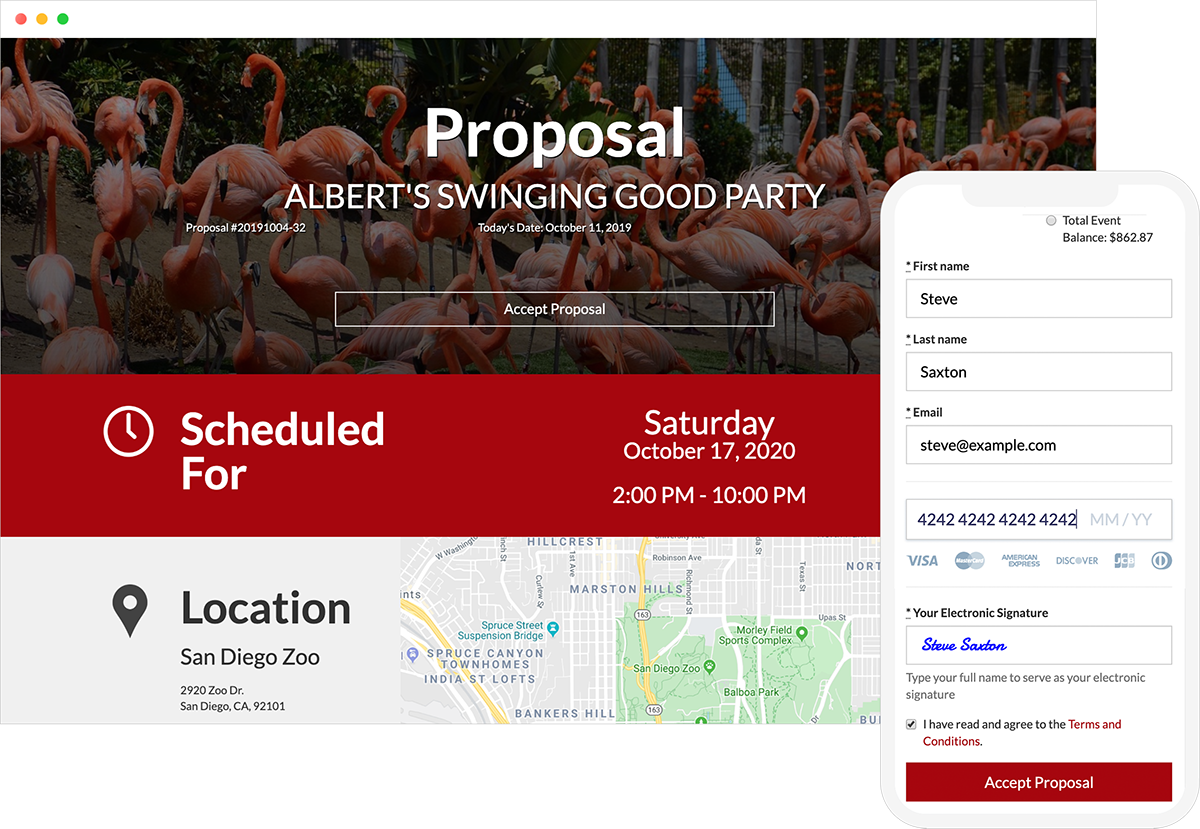 True Online Booking
Allow clients to click a button on your website and truly book your services. They'll be selecting a package, signing off on your terms and paying the deposit. They'll love how easy and convenient it is to start doing business with your company.
Set and manage your availability.
Configure your package and deposit preferences.
Upsell with add-ons.
Automatically calculate pricing including tax and travel.
Offer coupons and discounts to drive more sales.
Looks great on your client's phone, tablet or laptop.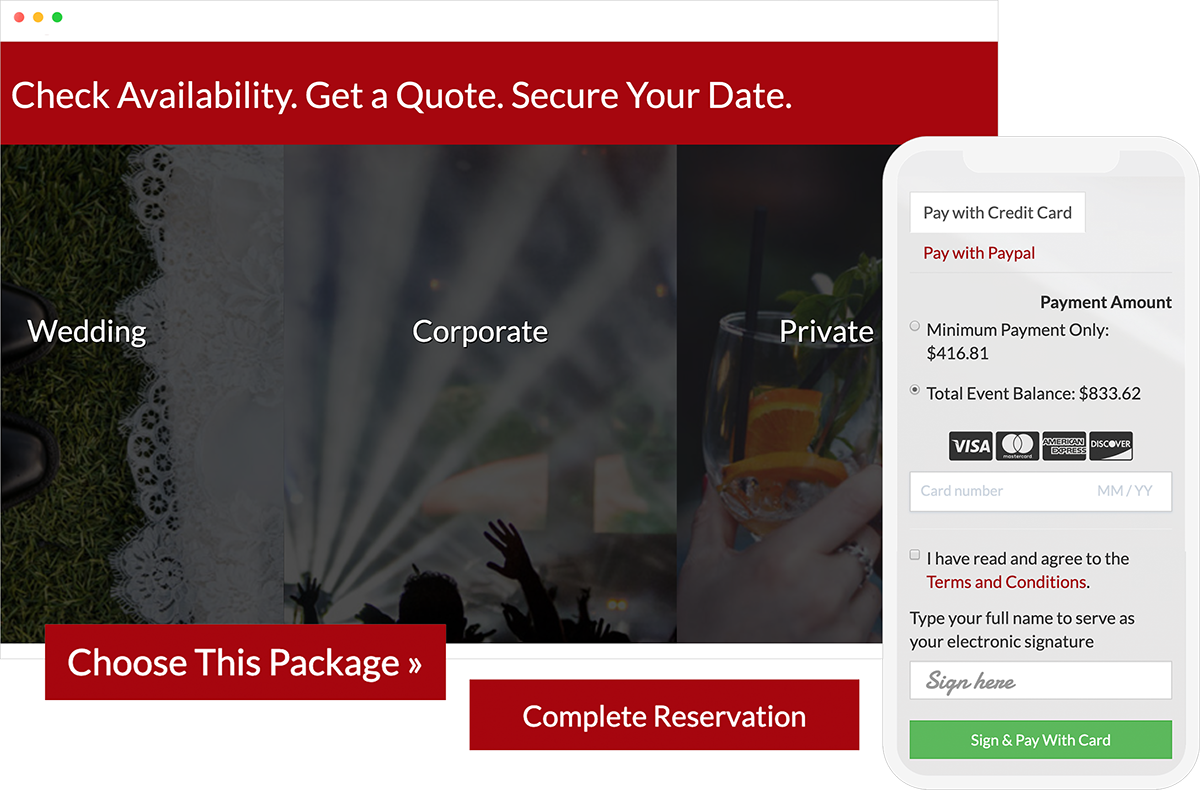 "Within a day of incorporating the button into my website, I got a booking."
Availability Done Right
Avoid being overbooked or under equipped. Check Cherry makes it easy to manage the availability of your staff, equipment and more.
Assign staff to work events, provide them with a schedule and an ability to set time off.
Set booking limits for your company and packages.
Track the availability of add-ons such as lighting, TV systems, and fog machines.
Manually set blockout dates for packages or services.
Bundle items to manage and limit more complex situations such as collection of equipment offered with your packages or add-ons.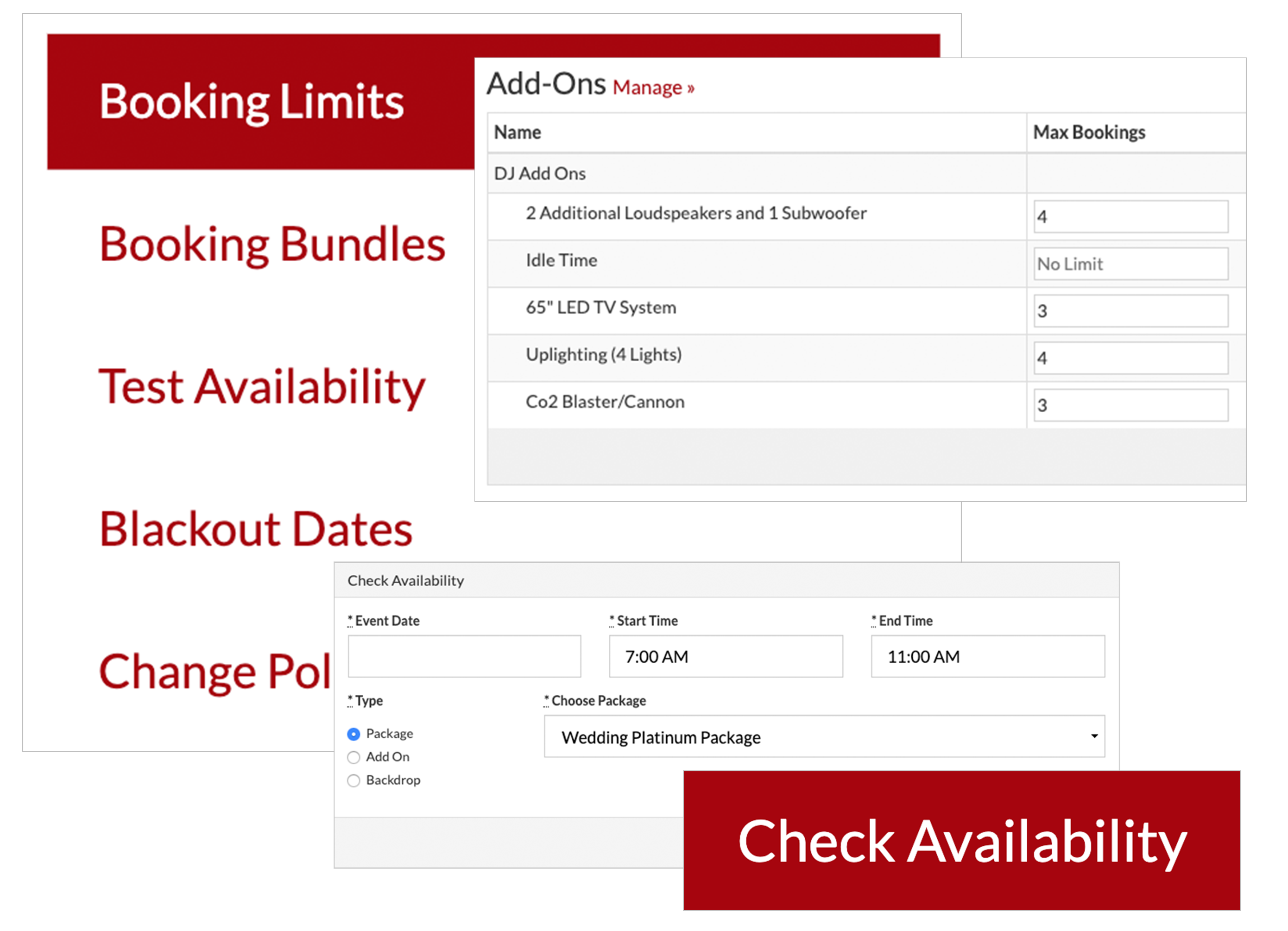 Calendars
All your bookings in one spot, updated automatically easily viewed online or synced to another device.
Maintain both company and individual staff calendars
Toggle visibility of bookings, proposals and time-off.
Sync any calendar onto a phone or computer and use your preferred calendar app.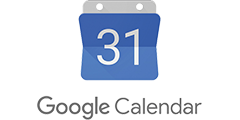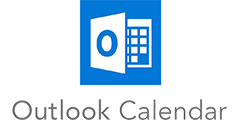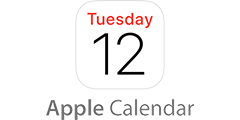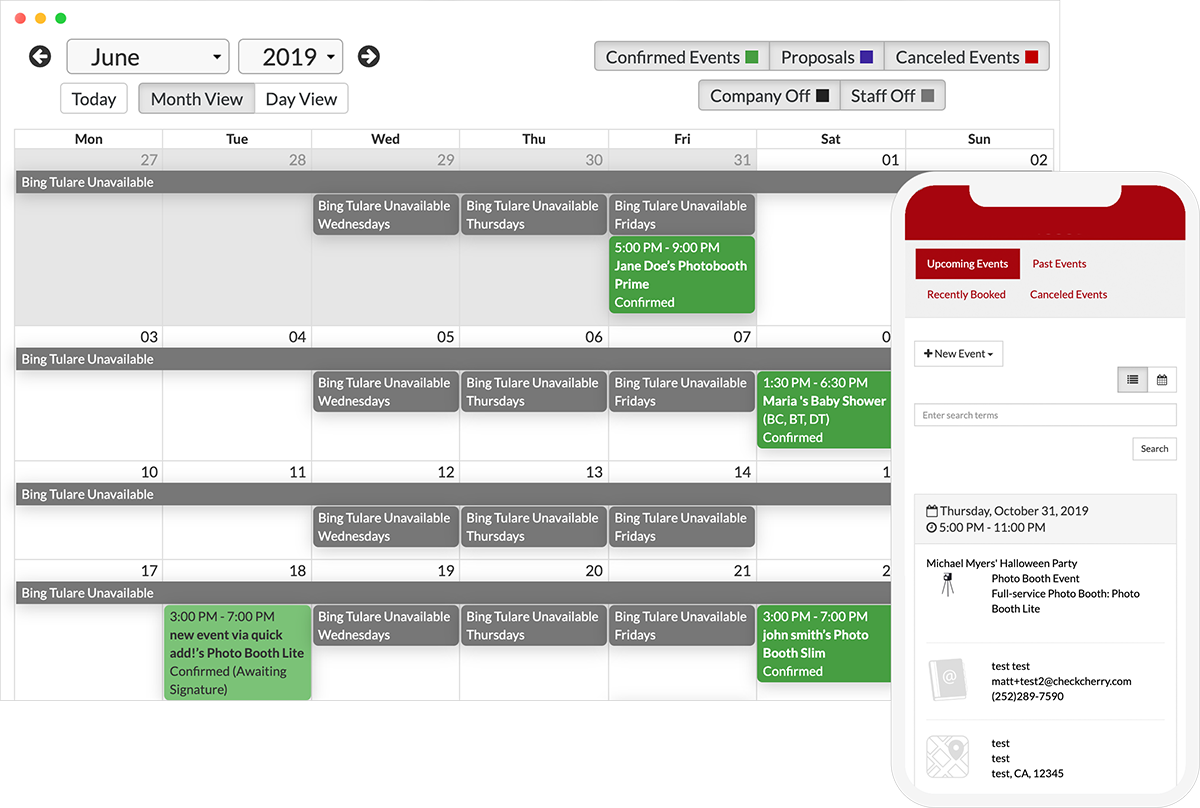 It's time to level up your online booking game.
Experience Check Cherry as a client by making a test booking.