Offering a mobile bartending service for weddings, corporate events, and high-end cocktail parties is a game-changer and can be a great business. Bringing top-notch mixology skills, flair, charm, and, most importantly, delicious drinks will ensure happy customers, referrals, and a growing business. However, a comprehensive contract is vital to protect your business. Here are the top 11 items you should include in your bartending contract for events.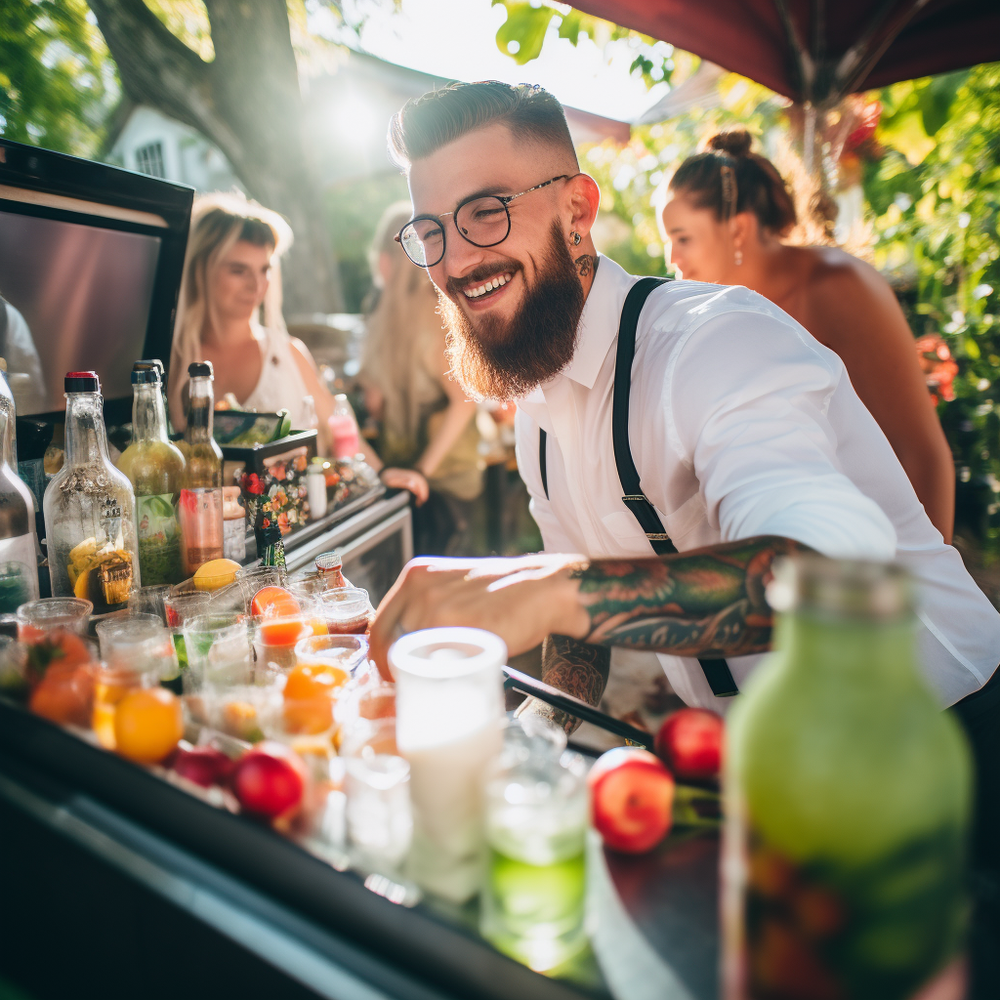 1. Scope of Services
Outlining the services your mobile bartending company will offer is a step to a solid mobile bartending contract. Selling with Packages makes this a straightforward process. Be sure to include the number of bartenders, service hours, and specialty cocktails or themed drink menus.
Suggested Article: Mobile Bartending Pricing and Packages
2. Payment Terms
Transparently present your pricing structure and payment terms. Include the cost of the Package, any additional charges for extra services or equipment, and the required deposit. Define the payment schedule and acceptable payment methods.
Tip: Use a quality booking system like Check Cherry to send professional proposals.
3. Insurance and Licenses
Disclose the insurance coverage your company carries, including general liability insurance and liquor liability insurance. Mention any required licenses to serve alcohol in the respective region.
4. Cancellation Policy
Address the possibility of event cancellation by either party. Define the notice period required for cancellation and any associated fees for the client and the mobile bartending service.
5. Guest Conduct & Staff Saftey
Emphasize the importance of professionalism and appropriate behavior for guests and staff. Setting guidelines for conduct during events ensures a safe experience for you and your team.
6. Alcohol and Beverage Selection
Clearly, state who is responsible for providing the alcohol and beverages. If your company handles this aspect, list the available beverage options and any customizations allowed.
7. Client Responsibilities
Communicate the client's responsibilities, such as providing access to the venue at the designated time, ensuring enough space for the bar setup, and providing electricity if required.
9. Indemnification Clause
Include an indemnification clause to protect your mobile bartending service from any claims arising from the consumption of alcohol at the event.
9. Force Majeure
Address unforeseen circumstances that may prevent the fulfillment of the contract, such as natural disasters or emergencies.
10. Online Booking and Reservation
With the increasing popularity of online booking, it's essential to address this aspect in your contract. Specify the process for online bookings and reservations, including the required deposit or payment upfront to secure the date and services. Mention any cancellation policies for online bookings and the process for rescheduling if needed.
11. Have it revised by a professional.
Hire a local attorney who is familiar with the laws of your state or region and have them review and revise the final agreement. Business contract law varies by state, and there may be some specifics.
Wrap up
Having a well-crafted bartending contract is vital for any mobile bartending service. It protects your business and ensures a clear understanding of expectations between you and your clients. You'll be ready to raise the bar and deliver exceptional mobile bartending experiences by including the abovementioned items.
Cheers to your success!