Running a successful photography business means you'll be doing business with a lot of people. As your business grows, you'll move on from doing business with friends, family, and friends of friends to doing business with strangers. This article will cover the importance of requiring all clients first to sign an agreement and pay a deposit.
Why should I make clients sign an agreement?
A solid photography contract will spell out all the terms and conditions of your services. It's common to have not have covered everything during the sales process. For example, photographers often include a model release, allowing them to use photos from a session in their marketing materials. While it's a good idea to let someone know about such a clause, more and more photographers offer online booking, and in such case, the pre-sales process with the client can be just a quick phone call.
Every photographer's contract should also have general business protections. Sections covering payment terms, limitations of liability, binding arbitration, and more can help the event a business relationship goes sour.
Worth knowing: Contract laws vary from state to state and country to country. It's essential to have an attorney licensed to practice in the region you operate review your photography contract to ensure it is enforceable.
Where can I find a contract for my photography business?
While you can draft an agreement yourself, it's probably best to look up a few local business attorneys and ask them if they can help you craft a contract for your photography business. Pricing can vary wildly, and there are also websites like UpCounsel to help make it easy to compare providers.
If you don't already have Terms and Conditions spelled out for your professional photography business, you are probably just getting started and will be price-sensitive. Often smaller sole-practitioners will value your business and be more affordable.
Also, ask each attorney if it's better for you to purchase a template for them to review or if they would like to present you with the first draft. Keep in mind, efficient attorneys have access to templates, and it's unlikely they will handcraft an agreement from scratch.
Tip: Avoid jargon & legalese in your contract. In other words, use language your client will understand. It will make the sales process a lot easier if someone chooses to read every line of your agreement and starts asking questions.
What if a client refuses to sign or objects to parts of the agreement?
It's important to know your agreement well and why each section exists. Identify which clauses you can live without beforehand and be prepared to modify the contract in such cases. For example, if you are fine without the model release section, remove it and send the proposal over again for a signature.
Suggested Video: How to send proposals.
If someone wants you to make changes outside the ones you've identified as acceptable, it's often best to decline to do business with the prospect. After all, you'll incur a cost for asking your attorney for advice, and any potential profit will quickly evaporate.
How much does a photography contact cost?
Expect to pay hundreds, but not thousands of dollars to have a contract drafted. It's important to keep in mind, you want to find partners who will find your business attractive. Pricing can dramatically vary for tasks. Attorneys also have specialties and you're looking for someone who does contact law. Expect larger law firms to charge more and smaller solo practitioners who cater to small businesses to charge less. It's also going to be great to find someone who is familiar with the business of photography. Remember, this is your agreement and you'll have to present it to clients so you want to make sure it's reasonable and will not be a problem for most clients.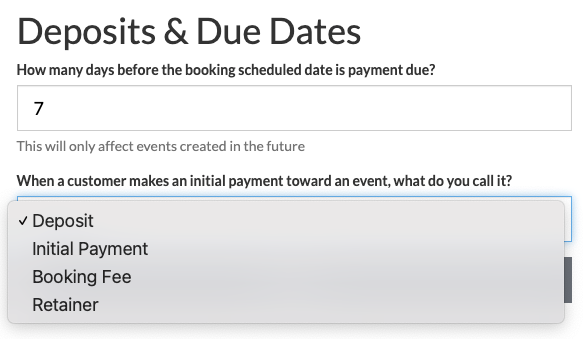 Why do photographers collect a deposit?
Most photographers require a deposit to hold the bookings scheduled date and time. The deposit is often nonrefundable and helps protect the photographer's profit margins from a client who does not show up for their session.
Some people use alternatives to the term "deposit". There is a lot of chat online about state laws, and the word deposit may prevent you from enforcing the "nonrefundable deposit" portion of your terms and conditions. Just another reason you should speak to an attorney familiar with your jurisdiction. At Check Cherry, we offer four variations for an initial payment. They are "Deposit", "Initial Payment", "Booking Fee", and "Retainer".
What if a client wants their nonrefundable deposit back?
Even if you're air-tight because your photography contact says a deposit is nonrefundable, you can still choose to refund the deposit. Before deciding to do so, I think it's important to remember deposits are often nonrefundable because it helps ensure the client is committed, shows up to their session, and the photographer does not waste time preparing or traveling to the location of the photoshoot.
When you're in business, a lot of unforeseen and unusual things can happen. It's also important to make people happy and maintain the impression you are client-friendly. Talk with your client and ask them why they want the deposit back. Be reasonable and aim to understand more to learn about your business and perhaps make it better for others to come.
A reasonable compromise to a client who forgot their appointment or needed to reschedule is to make an exception and transferring a deposit to a new booking date.
Avoid digging your heels in too much and keeping a deposit. Fighting with a client over a relatively small amount of money is foolish and not worth losing time and money when getting attorneys involved or going to small claims court.
Remember, the goal is not 100% compliance with every clause of your photography contract. Instead, the goal is to run a successful business, make clients happy, and flourish.
Should my photography contract be the same for all clients?
Maintaining one set of terms and conditions for all clients to sign will undoubtedly make your life easier and be more cost-effective. However, there may be times when the needs/expectations of the client are very different. For example, if one provides family portrait photography and newborn photography, you might use the same contact. However, if you offer portrait photography and real estate photography, you may need to have a few separate clauses that outline the photos' usage for commercial purposes.
Suggested Video: Craft the perfect contract.
What if my client pays a deposit, but does not sign my agreement?
Having a deposit with no signature or a signature with no deposit can be frustrating positions. If someone does not sign your agreement, refund their deposit. If some does sign but does not pay a deposit, let them know they have not secured your services. Make sure you use a quality booking website for photographers where the signature and deposit are both required before the booking is confirmed and added to your calendar.