When you're ready to start accepting bookings for your photo booth rental business, it's essential to collect the right booking details to ensure the job goes smoothly, the client is happy, and your business gets more 5-star reviews.
In this article, we'll cover some best practices for collecting information when booking photo booth rentals. With these tips, you'll be off to a smooth start and avoid common mistakes we see new photo booth entrepreneurs make when taking bookings.
Event Type and Desired Package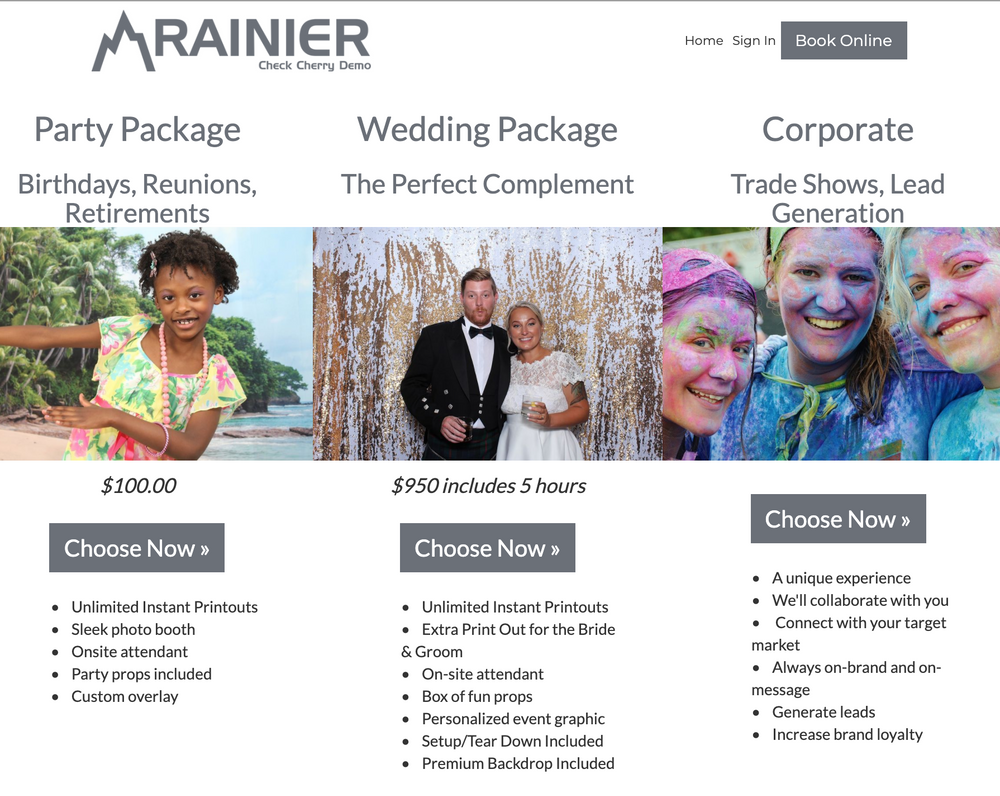 Allow people to indicate the type of event they are hosting and the package they would like to purchase. Only show them the packages which are available for their type of event. For example, a photo booth at a wedding tends to focus more on capture memories and have fun. Meanwhile, a photo booth at a corporate tradeshow may be most valuable for lead collection and conversation starter.
Tip: Show packages and pricing before collecting contact information to reduce the number of low-quality leads who want to know a price, but will never be able to afford your base package.
Client Contact Infomation
Collect a name, email address, and phone number when allowing someone to book your photo booth. Your client's contact info will come in handy for sending booking confirmation emails, invoices, and payment reminders.
Tip: Develop systems that will help you deliver a consistent experience. Automate low-value touchpoints like payment reminders.
Event Date, Start Time, and Venue Address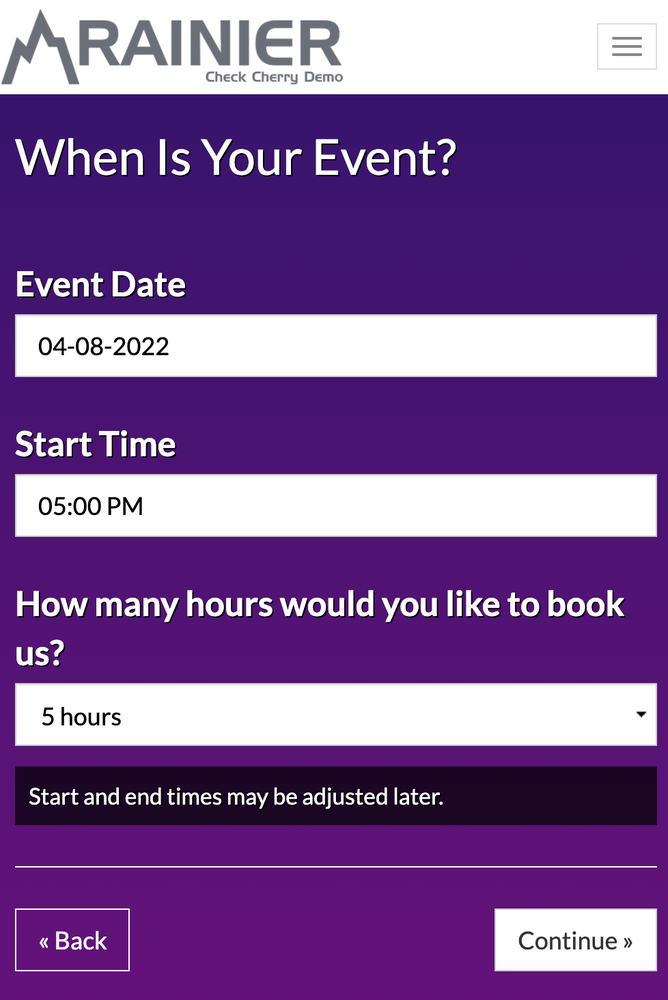 Be sure to collect information on when and where your company needs to be available to provide the service. If you charge travel fees or collect sales tax, you'll need this information to give an accurate price for the photo booth rental.
Suggested Article: Photo Booth Rentals & Sales Tax
Add-ons Options
Add-ons give clients a way to customize their experience and help you increase booking totals. Often, add-ons are only available for specific packages. Avoid confusion by only showing the add-ons available for purchase.
Contract Signature & Deposit
Before accepting the booking, have the prospect sign off on your Terms and Conditions. Also, it's a good idea to collect an initial payment to hold the date. Deposits are a great way to ensure the client is committed and will not cancel.
Tip: Set up a photo booth booking system like Check Cherry, which required both a signature and deposit before accepting the booking.
Use Digital Forms, Signatures, and Payments
While paper forms will undoubtedly do the job, digital photo booth booking forms will make both you and your client's life easier. For the best results, use a fully integrated photo booth booking system like Check Cherry. It will help you avoid duplicate data entry, prevent double bookings, and keep you're booking process client-friendly.
Suggested Article: Photo Booth Business Checklist
Avoid Overwhelming Your Prospects
It's best only to collect the data you need each step of the way. Don't present your prospective clients with a long and complicated form because it will make the process of hiring you look like a lot of work. Use a multi-step online booking process, so each step is minimal in appearance.
Make Booking Your Photo Booth Easy
If you want to increase sales, it's a good idea to make booking your photo booth easy. Offering online booking is a significant step in the right direction. Check Cherry provides all the tools you need to do online booking right.