In this article, we're going to give you some tips for happier, healthier, smoother payment processing so you can make it easy for customers and get more bookings.
Clients will love it when it's easy to do business with your company, and one of the more critical aspects of running a smooth operation is making it easy for clients to pay their deposits and balances. At times, payments can feel awkward, painful, and downright discouraging. Thankfully there are a lot of options for collecting payment today, and they'll make both you are your client's life better.
Focus on making it easy for your clients.
If you make it easy to pay, more people will book you online and accept your proposals. Credits cards are among the most convenient ways to pay and allow customers to finance a purchase, earn rewards, and even offer buyer protection.
PayPal, Venmo, Zelle, and Cash App all offer business and personal accounts. Business accounts charge processing fees and may be required for advanced functionality like integrating Check Cherry's with PayPal and Venmo integration.
Tip: Allow customers the option to pay online by using a quality online booking system like Check Cherry, where you can collect both a signature and a deposit at the same time.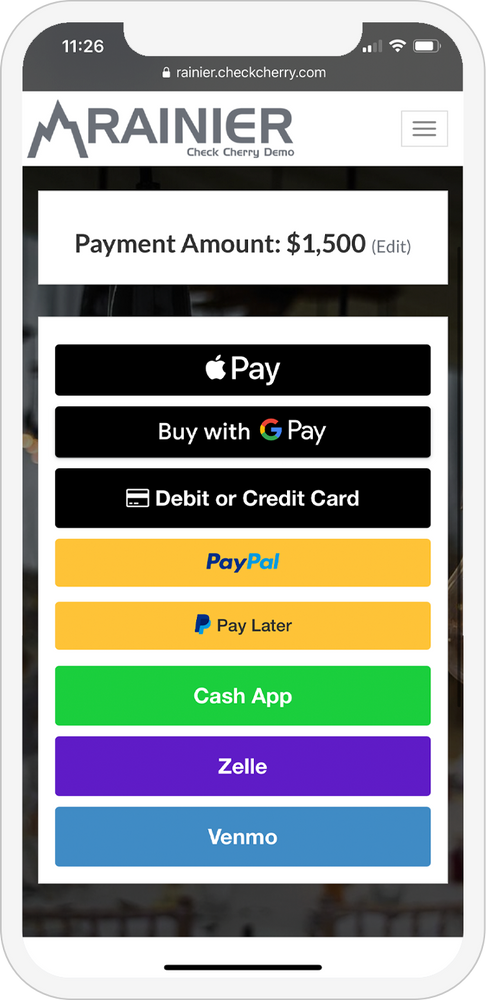 Mobile payments are essential.
More and more people are buying from their phones. Options such as Apple Pay, Google Pay, Microsoft Pay are gaining popularity and make the act of entering a credit card number effortless because the card details have already been stored on the customer's phone/browser.
Focus less on fees.
Avoid making your customers jump through hoops so you can save a buck on processing fees. Instead, focus more on making it easy to pay by offering online payment and more payment options. Reducing the friction at the point of sale is a sure-fire way to increase sales.
Check Cherry integrates with Stripe, Square, and PayPal for credit card processing. The credit card processing fees for each provider are comparable and easy to understand. They also include features to help your business achieve PCI Compliance.
Avoid surcharging.
Avoid the temptation to explicitly pass the cost to your clients with a surcharge for using a payment method that will incur fees. The fact is most people paying more for using their preferred method of payment, and such practices will cost you precious goodwill, client referrals and make your business appear less professional.
Tip: In the United States, visa makes it difficult for businesses to apply surcharges when paying online. According to Visa's Surcharging Credit Cards Q&A, U.S. merchants cannot surcharge debit card or prepaid card purchases.
Factor fees into your prices.
Consider payment processing fees a cost of doing business and factor them into the price of your packages. If you have not already factored in such expenses, use this as an excuse to raise your prices by 5-10%.
Get a deposit with a signature.
Often both a signed contract and a deposit are required to secure a booking. Be sure to collect both simultaneously, so you don't end up with one and not the other. If you choose to accept paper checks for deposits and allow customers to sign agreements, be sure to cover when the deposit is due in your contact.
Suggest Video: Better contracts with Check Cherry.
Easier payments make for easier commitments.
Clients often shop around before making a final commitment, and you're likely not the only company in contention for each job. By making it easy for people to sign and pay, you're more likely to make clients happy and win business.