Performing a job well done at the event is an essential part of running a successful photo booth business and making clients happy. However, experienced entrepreneurs know most of the work in running a successful photo booth business happens before and after each booking. That's where a Photo Booth CRM can help you book more clients, manage bookings and automate a lot of the boring stuff you don't like doing.
What is a Photo Booth CRM?
CRM is an acronym for "Customer Relationship Management". A Photo Booth CRM is a system designed specifically with the needs of those providing photo booth services to customers. As a result, a Photo Booth CRM does not resemble a boring or traditional CRM for managing leads, contacts, and opportunities.
Here are 14 reasons you'll love a Photo Booth CRM for your photo booth business: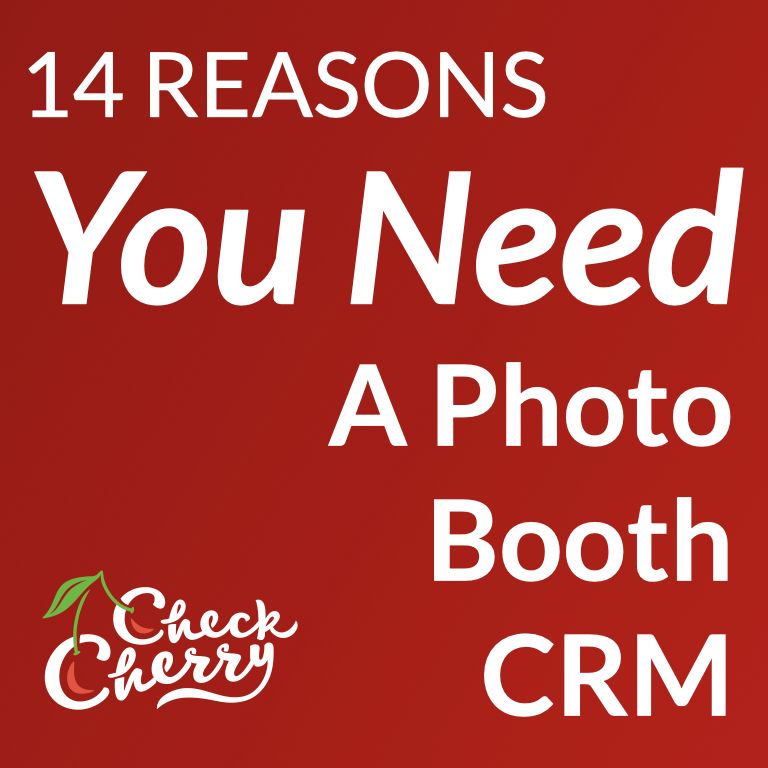 Photo Booth Template Features
A CRM built for photo booth rental companies will facilitate the process of allowing a client to pick their preferred photo booth template and help you record approval for the final design. It's a great way to collaborate with clients and avoid typos or miscommunications.
Check Cherry provides integrations with top-tier template providers like the PBO Design Shop and Photo Booth Talk so you can easily list hundreds of options for your clients.
Photo Booth Backdrop Features
A quality backdrop is often an essential part of the photo booth experience. A CRM designed for photo booth owners makes it easy for you to upload images and descriptions of the backdrops you own and let customers select from available options.
Check Cherry provides features allowing you to manage the availability of both single and double-sided backdrop inventory.
Deposits, Partial Payments, Tips, and Signatures
When looking for a CRM system, you're going to want to find one that aligns with how you do business. A photo booth CRM will allow you to collect both a signature and deposit at the same time before accepting the booking. Also, a client may want to give your team a tip for a job well done, so be sure to have an easy way to make that happen before or after the event.
Check Cherry makes paying easy and includes Apple Pay and Google Pay when you integrate Stripe or Square as your credit card processor.
Company and Staff Calendars
People hire your photo booth company to perform at a specific place and time. It's important to see your bookings in a calendar view to know where things stand for any given date. Also, assigning staff members to a booking and providing them with a calendar of their bookings is key to organizational success.
Check Cherry shows leads, outstanding proposals, and bookings in a single calendar view so you'll have a better idea of the chances each date will sell out.
Packages and Add-on Management Features
Most photo booth businesses offer a list of packages and add-ons for customers when hiring their services. However, photo booth packages have starting rates, and costs will often increase as the length of the photo booth rental increases. A good Photo Booth CRM will allow you to easily add and manage packages and add-ons with minimal impact on your sales strategy.
Check Cherry allows you to specify which add-ons are only available on a package-by-packages basis.
Self-service Booking Features
Many people looking to hire a photo booth company love it when they can full book online. It makes the buying process easy and allows them to move on to the next detail of planning their big event.
Check Cherry allows you to showcase your packages and add-on online with a comprehensive yet easy-to-use multi-step booking engine. If someone does not finish the booking process, Check Cherry will automatically create a lead and alert you.
Availability Management Features
Having a system to ensure double-booking never happen will relieve stress and allows you to book with confidence. A proper photo booth CRM will give you the tools you need to manage availably for your services, backdrops, staff, and more.
Suggested video: Managing Availability With Check Cherry
Location-Based Tax Features
Unlike most businesses, photo booth companies frequently travel to new locations, and the tax rates can be different for each booking. A solid Photo Booth CRM has the tools you need to automatically calculate tax rates based on the venue location and choose which packages and add-ons are taxable and which ones are not.
Suggested Article: Photo Booth Sales Tax Guide
Automatic Travel Fee Calculations
Sometimes taking a booking a long drive away is only worth it if the client is willing to pay for you for travel. A reliable Photo Booth CRM will allow you to set up travel zones and automatically calculate the rates based on the distance you will travel to the venue's address.
Check Cherry allows you to offer free travel so that you can include the first 50 miles/kilometers at no charge.
Photo Booth Proposal Features
When someone is ready to sign and pay that deposit, you're going to need a system that allows you to present your offer, with the location, package, add-ons, deposit requirement, and tax in one easy-to-use place.
Check Cherry proposals are simple, elegant, easy for clients to understand, and include pictures. Clients can also select a backdrop and new add-ons before accepting.
Staff Accounts
When you use the proper systems to manage your photo booth business, it's more likely to grow. As your photo booth business grows, you'll need to hire staff to help service bookings. A good photo booth CRM will allow you to have manage Staff Accounts and their calendars.
Check Cherry allows you to add your staff's images so clients will recognize them when they meet them at the event.
Client Portal
An easy-to-use customer portal marks a vast difference between a traditional CRM and a photo booth CRM. Giving people access to manger their booking, download invoices, make payments, and purchase add-ons impresses clients.
Check Cherry allows you automatically send messages to clients and tracks all email and SMS/text communication for each booking.
Booking Management
Core to any photo booth business is the booking. A great Photo Booth CRM should have first-class photo booth booking management at its core. If a CRM allows you to manage "projects", "opportunities", or "deals" it's a sure sign it was not designed with the needs of photo booth entrepreneurs in mind.
Check Cherry is not like most other CRMs because it's been designed with a specific intent on how customers sell and manage services.
Support for Multiple Brands and Services
A lot of photo booth entrepreneurs need support for more than one brand and service. That's because they often provide more than just photo booth services to their clients. A great photo booth CRM also allows you to run non-photo booth services in the same account.
Check Cherry offer multiple brands and services in our base plan. Popular provided along with photo booths include photography, Wedding MC/DJ, and Videography.
So much more than a CRM
In the end, your Photo Booth CRM should be a lot more than just a CRM. It should give you the tools you need to manage, grow and love your business.