Sending online proposals can be an attractive way to present your services. Done well, they make it easy for someone to finalize a purchase by signing your contract and paying an initial deposit/fees. With the tips in this article, you'll be able to level up your proposals, so they become a highly effective part of your sales process.
👉 Some people refer to proposals as quotes. For the most part, people use these terms interchangeably.
1. Understand your prospect's needs.
The first step in presenting a highly effective proposal is understanding the needs and desires of those looking to hire your company. After all, the goal is to provide an offer they are likely to appreciate.
Before crafting a proposal, start with a friendly conversation to learn more about your prospect's wants and values. Be genuine and establish yourself as a guide by asking questions to identify whether or not it's a good fit. These conversations are your opportunity to demonstrate the caliber and quality of your company.
👉 Remember, not everyone is going to be a fit. It's ok to turn down an opportunity and focus efforts on those more likely to book by not sending a proposal.
2. Leverage multiple communication channels.
It's good to nudge a prospect to your preferred communication method, but let them know you are open to other ways of communication. Avoid forcing a client to communicate over one specific medium (phone, text, email, etc.) because it's how you want to sell.
👉 You can increase the chances of people responding, feeling comfortable, and trusting you by using their preferred method of communication.
3. Make your proposals easy to understand.
A shorter and more straightforward proposal will perform better than a proposal with unnecessary content and fluff. Unless you respond to a lengthy Request for Proposals (RFP), it's best to skip the clutter. For example, there is no need to sell your company at this stage. Your marketing collateral/website and sales communication leading up to the proposal are the places to make that happen.
4. Make the look great on phones.
Whether you email or text your proposal, the chances are good it will be seen first on a phone. Avoid sending pdf files and word documents because they just won't look good on phone.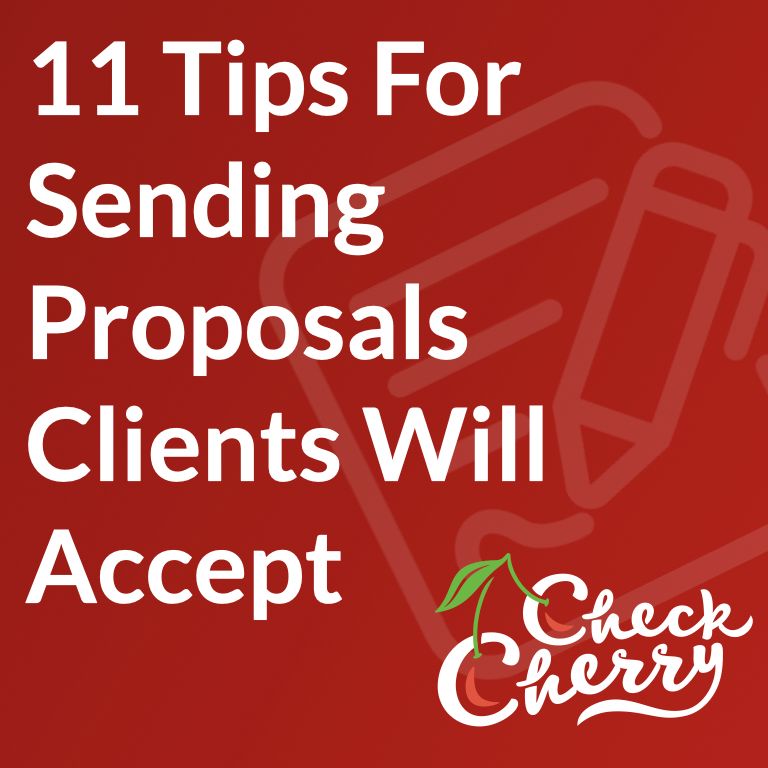 4. Add

imagery

.

Including pictures of your packages and add-ons will go a long way in helping people understand what you are offering and make them feel more comfortable. Include photos of your packages, add-ons, and any other relevant information.



6. Offer a complete breakdown of costs.
Be sure all costs, including tax and travel fees, are disclosed upfront on the proposal before the client accepts the offer. You risk losing trust and annoying a customer if you add more fees/tax after presenting your offer.
👉 Word of mouth is a great way to grow your business. When people have negative experiences with your company, they are much less likely to refer you, and many will never tell you about it.
7. Add your brand to each proposal.
Add your company's logo to each proposal. You can even take it a step further by incorporating your company's color scheme. It will go a long way toward making your company look professional, trustworthy, and ready to do business.
👉 People will judge the quality of the services you will provide based on how your sales process goes. If they get the sense, you are not professional and organized; you'll lose sales. When you look like a pro, you'll be able to charge more.
8. Make the acceptance process easy.
With few exceptions, the days of printing, signing, and faxing documents are gone. Digital signatures are the standard. Be sure to provide a call-to-action and easy workflow for securing your services. Often that means signing a contract, paying a deposit.
9. Offer multiple payment options.
If a deposit/fee is required for securing your services, make it easy for people to pay. The payment step is when most sales are lost. By making it easy, you'll increase the chances of closing the sale.
👉 Use a quality online booking website like Check Cherry, which supports Apple Pay & Google Pay to make the process of collecting a deposit quick and easy.
10. Give time-sensitive discounts.
Expiring discounts are a tried and true way to motivate your prospect to make a decision and commit. If you offer a discount, be sure to put a short time limit for accepting the offer. A few days is a great place to start, and you can adjust based on your observations.
👉 Keep in mind, you can honor the expired offer if they are willing to commit shortly after the initial expiration. Favors are a great way to establish goodwill with clients.
11. Follow up.
If a proposal is not accepted or declined, it's a good idea to reach out and check-in. Another benefit of offering a time-sensitive discount is it will give you a sensible reason to follow up in a day or two, and it sets expectations on when someone will make a decision.
Avoid over automating your follow-up and sales process. Anything over a couple of touches is probably a wasted effort which is more likely to make your company seem impersonal and out of touch. Try crafting personal messages to increase the chances of people responding.
👉 A a quality online proposal system like Check Cherry will show you if someone has viewed your proposal.
Bonus Tip
12. Compliment proposals with online booking.
Avoid sending proposals to every lead without a conversation. It's a sure-fire way to decrease their effectiveness and will dilute your follow-up efforts. Instead, use a quality online booking website like Check Cherry to accommodate a lower-touch, self-service sales process. You can even direct people who want to see your pricing guide and collect leads for those who start but do not finish the booking process.