Clients love online booking.
When you're easy to book you get more business and spend less time quoting prices.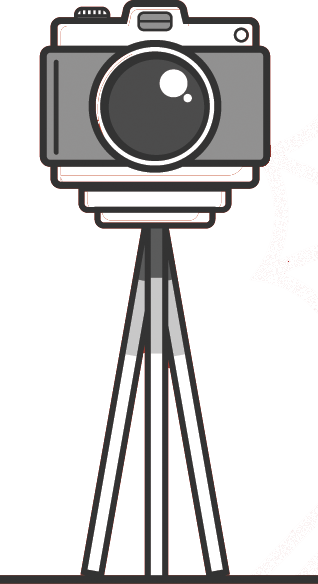 Clients love online booking.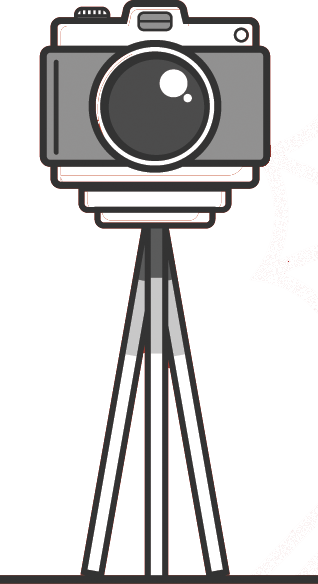 When you're easy to book you get more business. 🚀
But appointment scheduling and shopping cart software just don't cut it for selling services online.
That's why we built Check Cherry.
Everything you need to do online booking right.
Require Deposits
Never put a booking on your calendar again without payment. Send automatic reminders when full payment is due and let them pay online. Square, Stripe, and PayPal integrations available.
Sign Contracts
Make certain each booking has a signed agreement. Upload your terms, collect signatures, and automatically insert sections based on the package or add-on purchased.
Upsell with Add-ons
Customers can't buy just any add-on. Limit which add-ons are available for which packages. Add images and descriptions to help people see what they are buying.
Add Your Packages
You don't have products; you have packages. Add your packages, configure pricing, deposits, images, and more for a smooth checkout experience.
Booking Management
You're going to need help managing all those online bookings. Sync your calendar, automatically build a checklist, automatically send messages based on the package booked.
Client Portal
Allow clients to access and manage their booking in your customer portal. They can fill out questionnaires, make payments, and more.
Countless thoughtful details. One great system.
Countless thoughtful details.
One great system.
Over the years, we've listen customers and incorporated feedback to make Check Cherry amazingly helpful.
People are going to love how easy it is to do business with your company.
You're going to love all the ways we help you get more business, stay organize and look like a pro.
At Check Cherry, we've baked in years of experience and best practices, so you can maximize your online sales without having to do all the research.
Your Branding & Colors
Customize your account by uploading your logo and matching your brand's color. You can even manage multiple brands in one account.
Simple Website Integration
Integrating with your marketing website is easy. Just add call-to-action buttons linking to your services or packages.
Multi-step Booking
Check Cherry walks people through your booking process over multiple steps, so you get more leads, insight, and sales. You'll love the lead alerts.
Partial Bookings Leads
If a person starts the booking process but does not finish, we'll send you a Lead Alert so you can follow up, learn more and close the sale.
Add Images Everywhere
People online buy with their eyes. That's why you can add images throughout the booking process. Add photos to packages, add-ons, proposals, places, and more.
Send Beautiful Proposals
Some clients will want a proposal. Present your offer, collect a signature, and ensure you have a deposit before the booking is confirmed.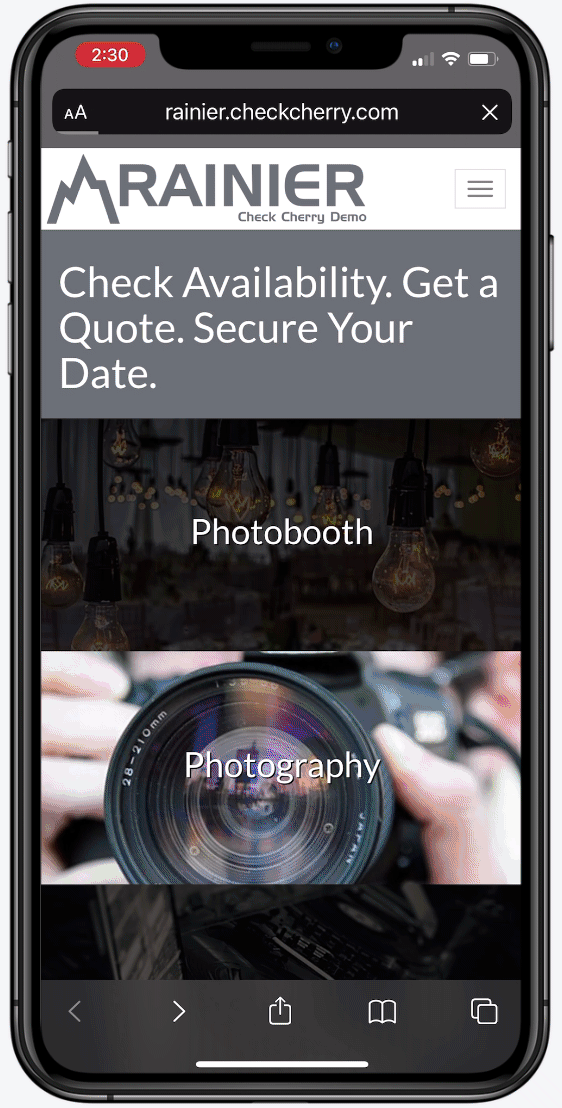 "Check Cherry is seriously one of the best products out there! They are very friendly and always super helpful. I absolutely love working with this company! Love Love Love Check Cherry!!! The software was a little confusing for me, but with the support that is offered from Check Cherry I never have to worry. Everyone is fast, friendly and efficient! If you ever get to work with Judd or Matt, tell them J.E.Ms Creations says hello and we absolutely love them."
~ Maribell, J.E.Ms Creations
Start impressing clients with online booking today.
1. Build your account.

Add your logo, brand colors. Most of the account setup is done when signing up for a free trial. We've seen people up and running in less than an hour.

2. Add your packages.

Set your prices, deposit requirements, add descriptions, and images. Organize your packages so it's easy for people to buy.

3. Integrate your website.

Sprinkle in timely and effective call-to-action buttons like "Book Now," "View Packages," and "Pricing" on your marketing website. Check Cherry works with all the website builders and hosts.