The new way to make clients love booking you.
Modernize your customer experience with the next generation of booking and client management software.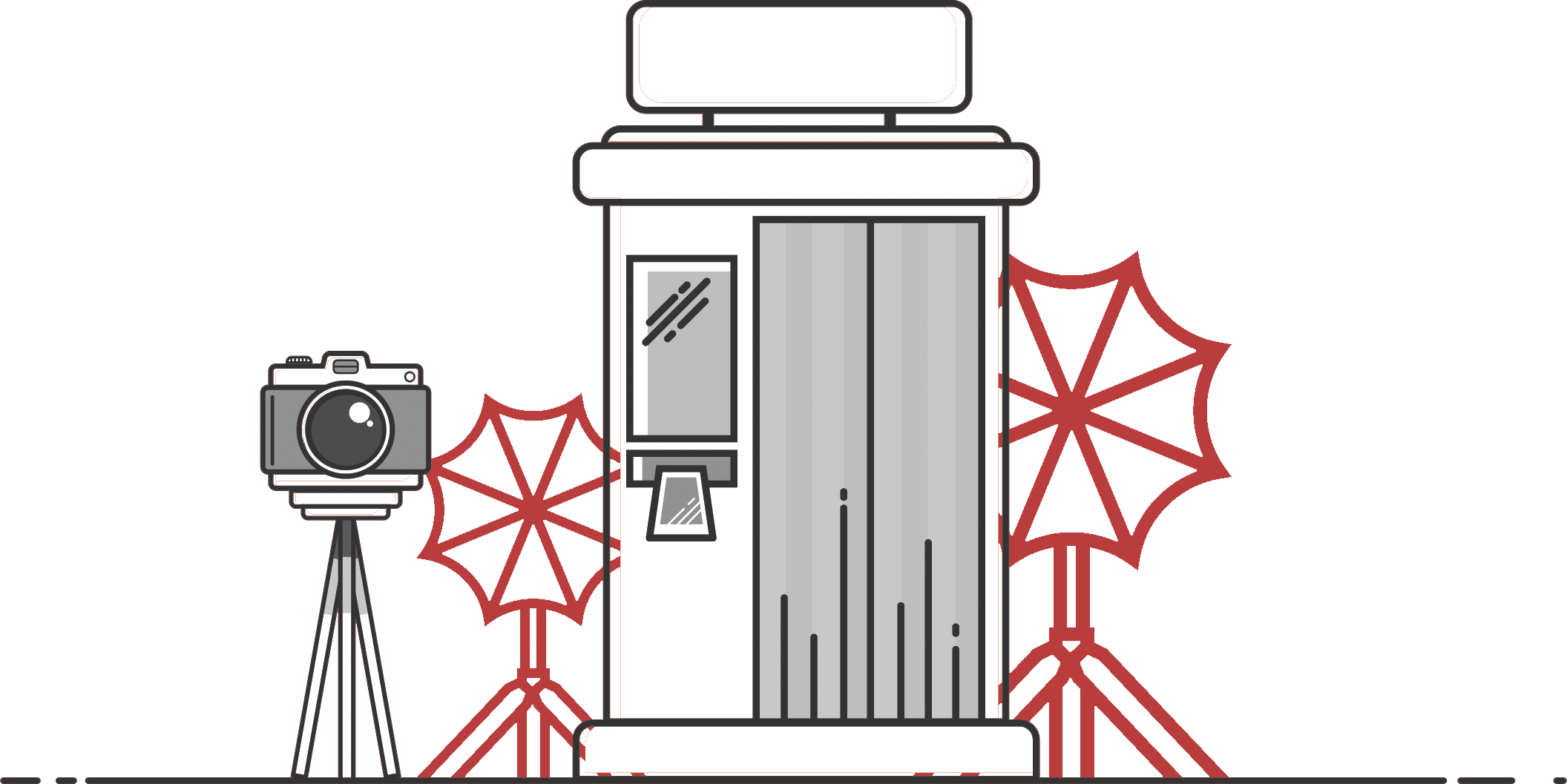 It starts with our stunningly beautiful online booking system.
But that's not where it ends because you're going to need a better way to manage all those clients who love booking you online.
A variety of businesses use Check Cherry. If you offer a service where the client can choose among packages, and you want to modernize your client experience, Check Cherry is designed for you. If you have questions, chat with us, and we can help you quickly evaluate the platform.
We're powering the next generation of forward-thinking service providers.
Life is better when you can see packages, pricing, and book online. It's how we like to shop, we know our clients will love it and our business will grow.
"Check Cherry is definitely setting the standard for how small businesses can become big businesses, with consistent new updates, a user friendly platform, and an amazing customer service team that tailors to the growing demands of entrepreneurs growing their small business.
I've used a number of CRM systems, booking apps, so on and so forth and although not perfect, Check Cherry is definitely perfect for my growing business. I definitely recommend Check Cherry for the evolving entrepreneur!"
Still doing business the old fashion way?
True Online Booking
Allow clients to click a button on your website and truly book your services. They'll be selecting a package, signing off on your terms and paying the deposit. They'll love how easy and convenient it is to start doing business with your company.
Set and manage your availability.
Configure your package and deposit preferences.
Upsell with add-ons.
Automatically calculate pricing including tax and travel.
Offer coupons and discounts to drive more sales.
Looks great on your client's phone, tablet or laptop.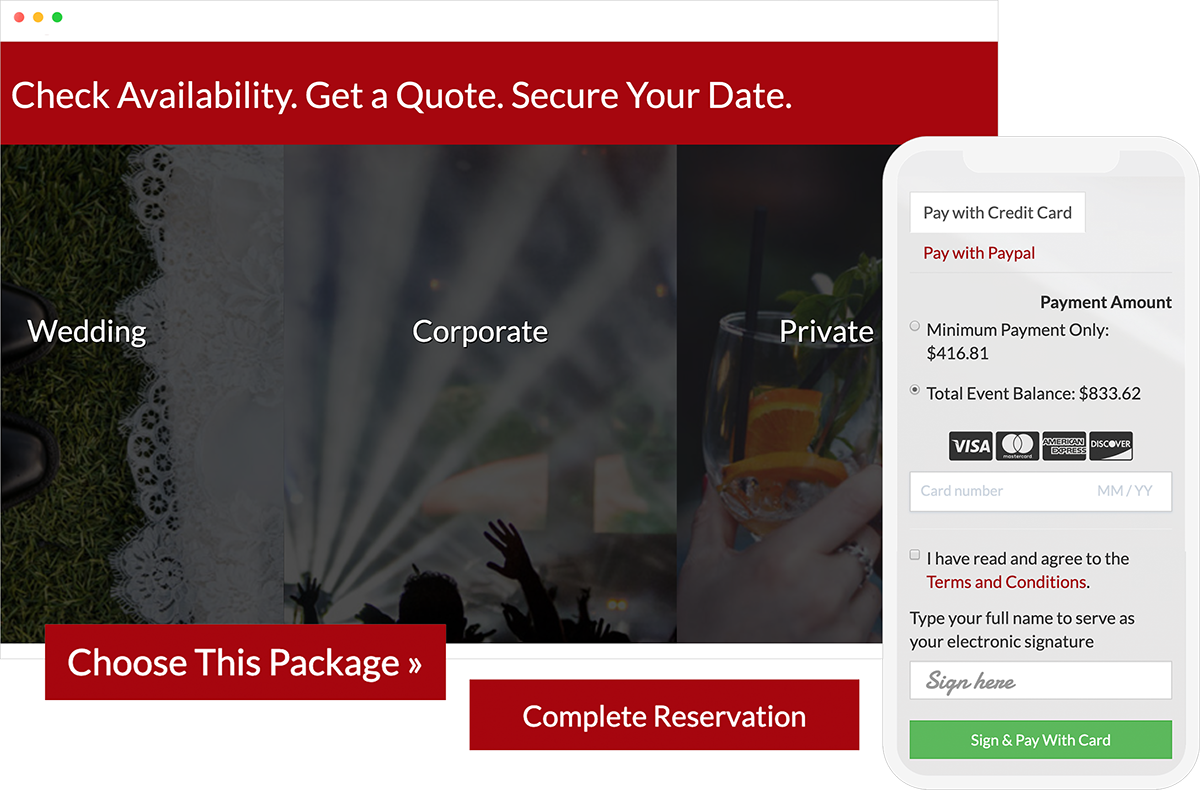 "Within a day of incorporating the button into my website, I got a booking."
Sane Organization
Spend less time organizing your business and more time growing it. With Check Cherry an organized business is the natural result of you and your clients using the system together.
Everything you need to know about a booking in one spot.
Company and staff calendars.
Invoices, contracts, payment history.
Client email logs on a per booking basis.
Robust reporting for sales, taxes, outstanding balances and more.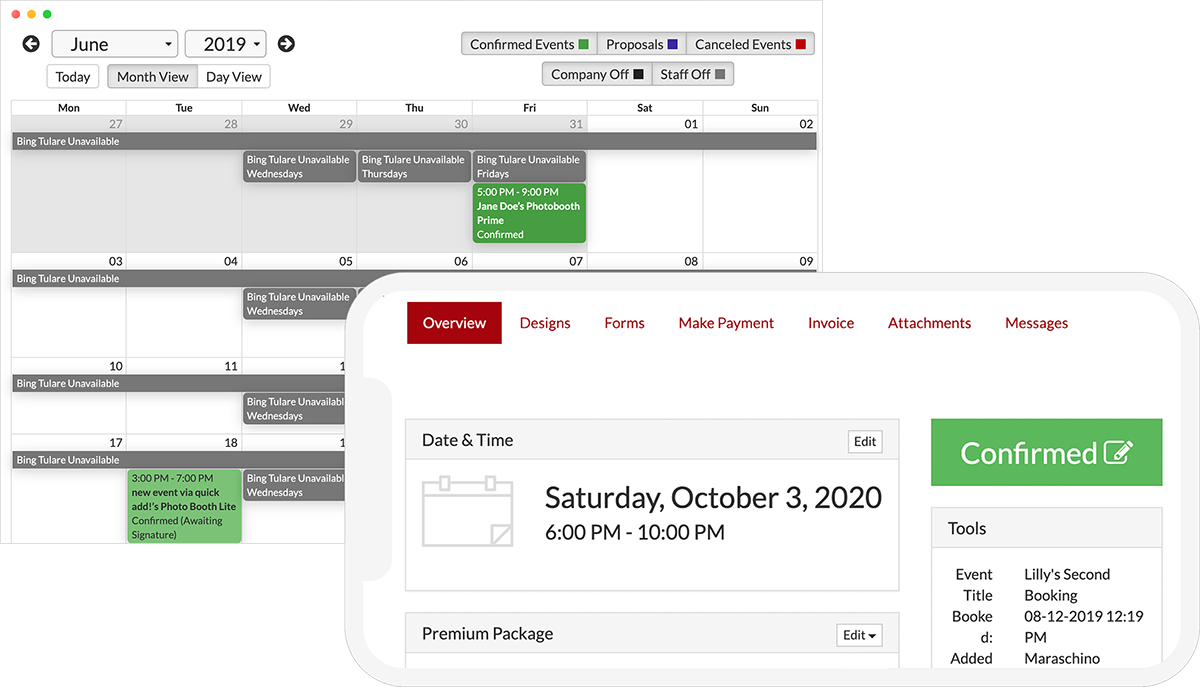 "My booking process, invoicing and staff communication has improved so much that I actually have time to do other "non office" related things!"
Look Like A Pro
Give your clients the confidence to know they are making the right decision in moving forward with your company.
Send beautiful, easy-to-digest proposals that convert.
Offer an easy-to-use, visually stunning client portal.
Leverage the benefits of self-service bookings and more.
Provide professional looking invoices and payment receipts.
Automated pre-booking touches and post-booking follow up emails.
Manage staff, clients, booking and more in one spot.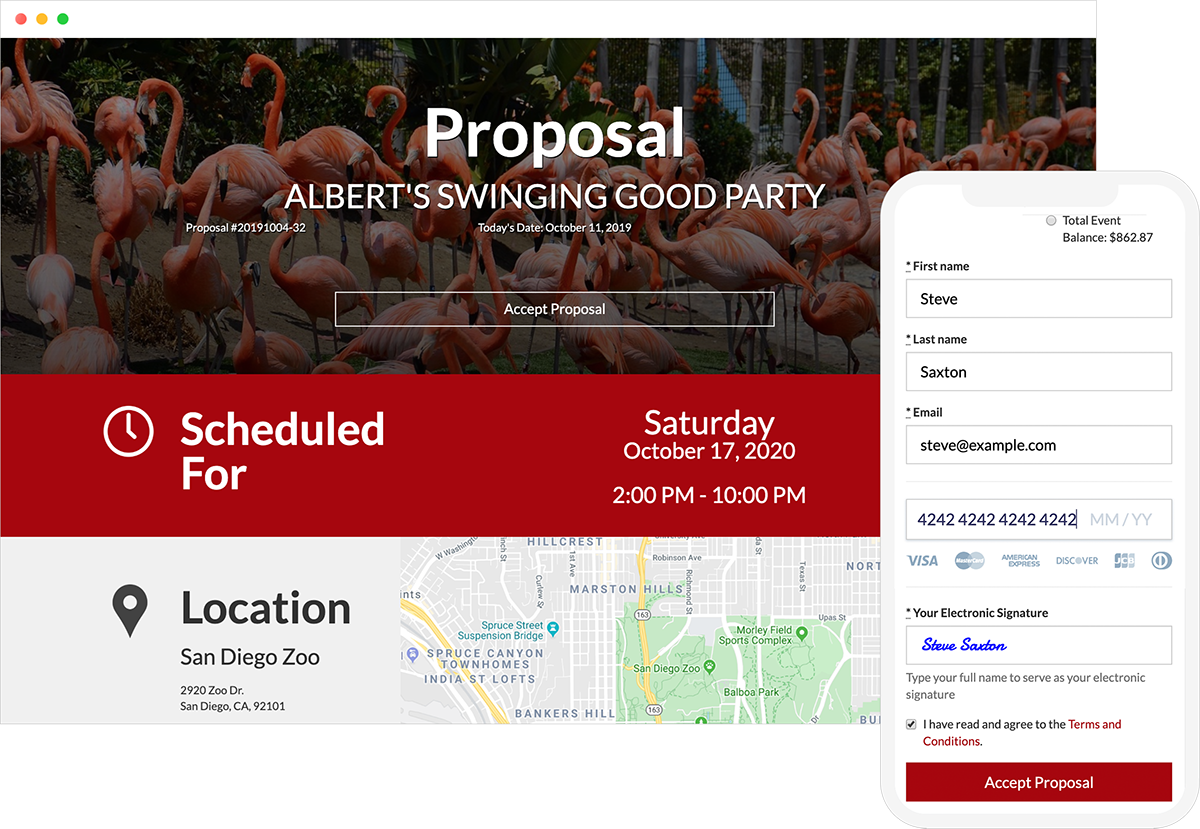 "Check Cherry is definitely one of the best decisions I've made in reinventing my business. The ease of use has become a massive client highlight."
Earn More
Grow faster by winning more business with Check Cherry's modern approach to business management software.
Capture new business 24/7 with end-to-end online booking.
Send beautiful proposals that look amazing on phone, tablet, desktop and paper.
Zero pressure upselling with a menu of your optional add-ons.
Convenient payment options for clients.
Get more referrals and repeat business when you deliver and easy-to-use, convenient and professional client experience.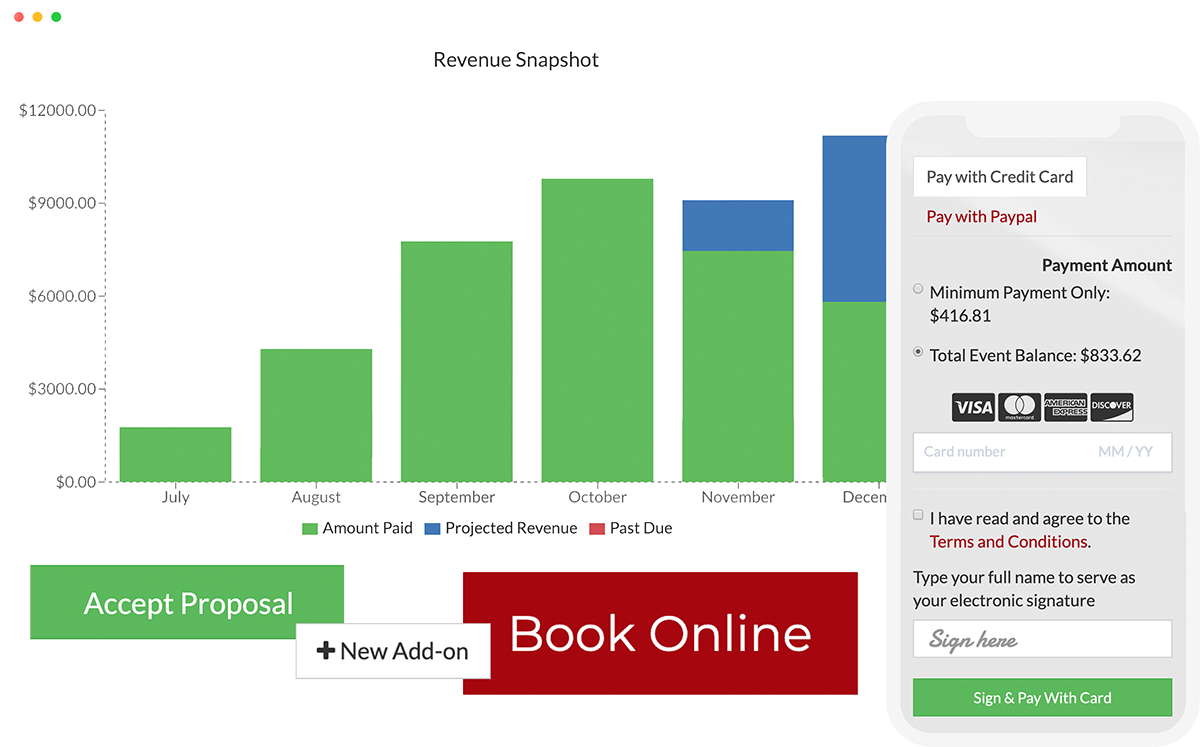 "Check Cherry streamlined our processes, increased our bookings, increased our revenue, and given us insights into our business we've never had."
First Class Client Experience
Make it easier for clients to do business with your company and reap the benefits of taking a customer centric approach to operating your business.
Happier customers
More referrals
More repeat business
Increased staff satisfaction
Increased revenue
Less busy work
"Check Cherry is the best booking & event management software we've ever come across. It's beautiful to look at, easy to use, and crazy powerful. And our clients love it just as much as we do."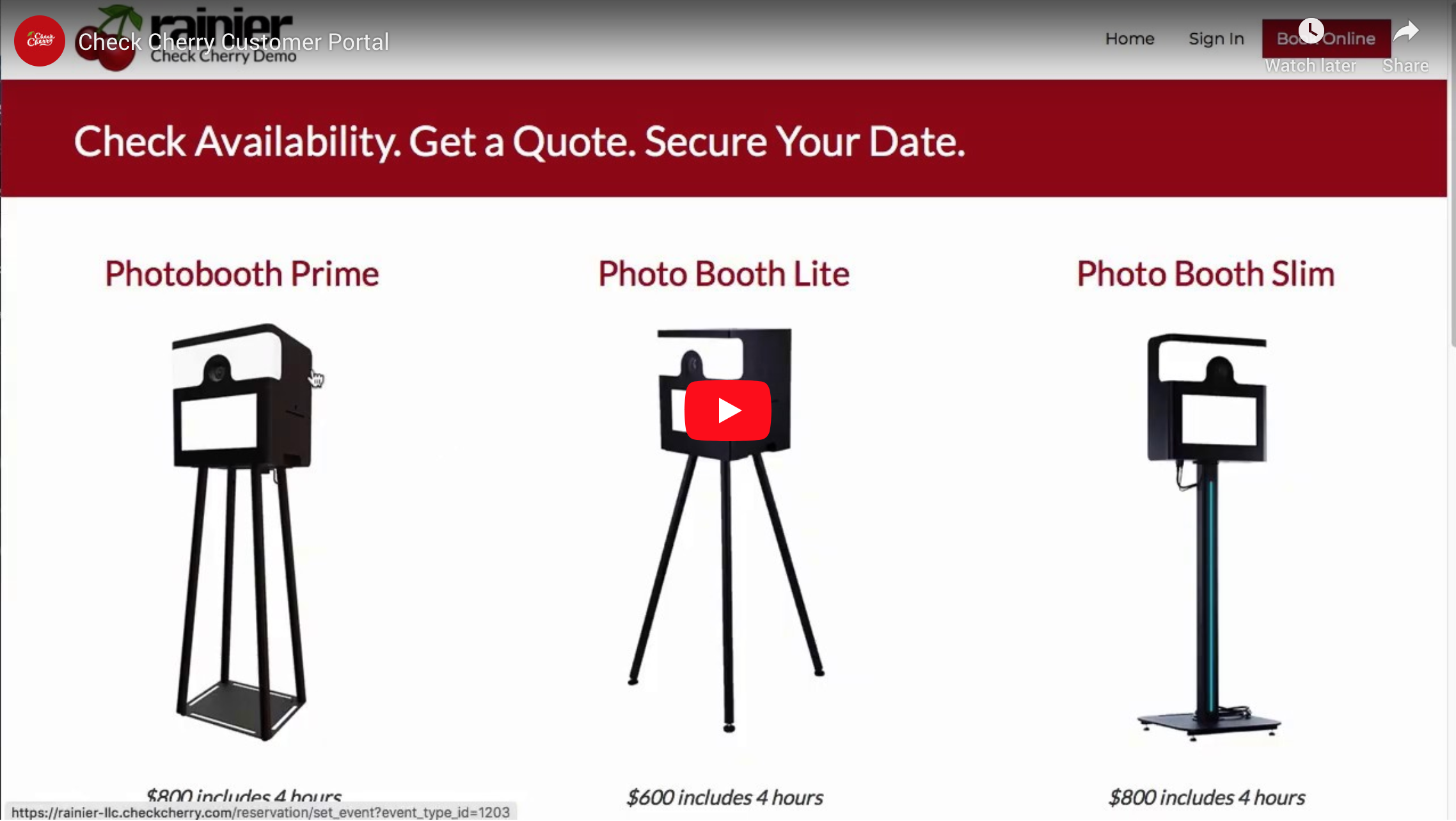 Watch and learn about the customer experience.
Start booking more clients online.
Setup is easy. Amazingly helpful chat support included.