Selling out your mini sessions is key to making them an effective of your photography business. It's also great marketing because it shows people you are in high demand.
The first step in selling out your mini sessions is to get the word out to your audience. Often, this means posting advertisements online and sending a flyer via email to past clients. In both cases, this first impression of your mini sessions will make or break them.
In this article, we'll cover practical tips for making your mini session flyers more effective so you can book more clients.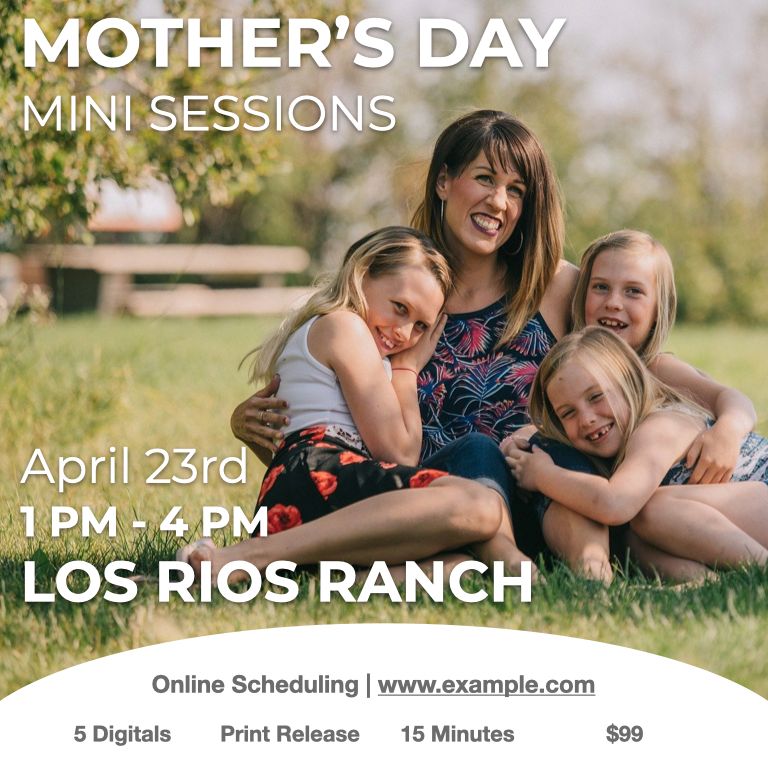 Promote The Location
Your mini sessions should be convenient for both you and your clients. By advertising the photoshoot location, you'll help people know how far of a drive it will be for them.
Share The Date(s)
Along with the location, people will need to know which date you plan on hosting your mini session. If you have multiple dates for the same theme, make it clear there are options.
There is no need to get bogged down and list specific time slots. Leaving a reason for people to learn more is a great way to gauge interest.
Make The Purpose Clear
The best mini sessions have a purpose or theme. Let people know why they need to stop what they are doing and book a slot by today. For example, is this an excellent opportunity to get pictures for Christmas cards?
Suggested article: Ideas For Mini Sessions
Provide A Sample
One of the most effective ways to convey the value of a mini session is to provide a sample photo of what one should expect from participating. While many mini session templates online have slots for multiple images, we recommend leading with one great photo. It will help your flyer feel less cluttered, be more prominent and give you room to focus on other important details listed in this article.
Include Deliverables And Price
Provide a brief description of what is included with the mini session, along with the associated cost. Common deliverables are the number of finished images, usage rights, and turnaround time. While it's wise to offer optional upsells as add-ons, you should avoid cluttering up your flyer with too much info and show more options later in the sales process.
Include A Call-to-action
Now that you've given people enough information to let them know if it's a good fit, it's time to let them know how to proceed. Don't be coy or shy here; include short instructions covering how one can book. Call-to-action examples include:
"Text to book | 555-909-2360"
"Call For Avalalbity | 555-415-1212"
"Book Online Now | https://rainier.checkcherry.com/mini_sessions"
"View Available Slots | https://rainier.checkcherry.com/mini_sessions"
Offer Online Scheduling
Let people know that securing a spot is hassle-free by using a quality mini session scheduler like Check Cherry. By showing the real-time availability of time slots, you'll save clients the frustration of going back and forth to secure a spot. You'll also be able to display optional add-ons during the booking process, which leads to more money in your pocket.