Have you ever wanted to see what your closest competition is doing with Facebook advertising? In this article, I'll show you how you can browse the ads of your competitors and cover some ways this information can be helpful and also how it might not be so important.
A few things before we get started:
The search covers all Facebook platforms, including Instagram.
You can search by the name of a Facebook Page to see results.
Only active ads will show.
One does not need a Facebook or Instagram account.
About Ad Library
Facebook has been under meaningful pressure related to its business model, privacy policies, and the impact of advertising on social issues, elections, or politics for its platforms. As a response to criticism, Facebook has opened the data and allows people to search for ads. They named this Ad Library. I'm going to ignore searches for "Issue, Electoral or Political" matters, but it's worth noting you can search by keyword, and that is not a feature for all other add categories like photo booth rentals or the booking/CRM software we offer at Check Cherry.
How To Search Your Competitors Facebook Ads
Head on over to the Facebook Ad Library and search for a Facebook page by name to see the results. For example, here is what Check Cherry is currently doing.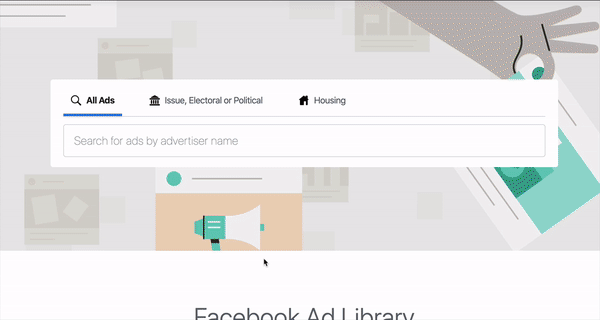 Reasons This Infomation May Be Helpful
There are several insights on can gather from the search results. First off, are there any results? Your competitors may not be running ads; that can be worth knowing. Another insight is the content of the ads, as it can give you an idea as to how a company positions itself. The sheer volume of ad results can be an indication of their budget and/or the amount of effort they put into the program.
Reasons This Infomation Is So Not Helpful
While it may seem like Facebook is really opening up here, there are a lot of important details missing. For example, you won't know which ads are for retargeting and which are for finding new eyes. Similarly, you will not see what interests or demographics they are targeting. This is a key component to running successful campaigns. Perhaps most importantly, you won't know if there is a positive ROI for their Facebook ad spend. Just because one spends money does not mean it's working.
Closing Thoughts
Keep tabs on competition is a normal and healthy part of winning business. However, it's important to remember: you are not your competition, and what works for them may not work for you. The best way I know to gain insight as to what might work is to talk and listening to customers/prospects. Testing out your original ideas for winning new business is the best way to become/maintain a market leader. I'd stay away from straight ripping off ad copy and running them in your own account. That said, browsing companies in similar industries can be a great way to get inspired.